V eranda Leisure and Hospitality (VLH), operators of Heritage Resorts and Veranda Resorts, are offering the first carbon neutral hotel stays in Mauritius from October 2021. The initiative is a first for the hotel sector on the island and is part of a wider sustainable commitment and programme of community and environmental projects, many of which are already underway. The various projects are showcased on a new website under the programme name Now for Tomorrow. Heritage Resorts will be offering guests carbon neutral stays at its two hotels, Heritage Le Telfair and Heritage Awali in Bel Ombre – by offsetting all CO2 emissions that would be generated by a hotel stay. This objective will be achieved through the purchase of carbon credits with the Aera Group, an environmental commodity trader, and through local carbon offset projects including the construction of a photovoltaic farm. For guests at Veranda hotels, a voluntary contribution to these projects will be offered to customers. Now for Tomorrow comprises five areas of action, in accordance with the  Mauritius Business SignNatir pact, namely energy transition, circular economy, protection of biodiversity, living and integrated communities, as well as inclusive development. As sustainability is an integral part of VLH's DNA, Heritage Resorts and Veranda Resorts are looking to integrate these five pillars of sustainability into their operations. For Thierry Montocchio, CEO of the VLH group, Now for Tomorrow is not just a promise. "We are launching this programme having already achieved great results from actions taken over the past ten years. He explains: "Our conservation programme that created ten artificial reefs in the Bel Ombre lagoon has enabled significant regeneration of the corals and we have seen 20 new species of fish. Our Heritage Training Academy has empowered local communities and offered them a career in the hotel industry. Our new water bottling unit enabled us to avoid using the equivalent of 27 tons of plastic bottles in 2019 and in addition, 65% of our waste has been recycled. Now for Tomorrow is also a first in the sector because it promises carbon neutrality through clearly defined objectives and an action plan. Acting for the climate and the environment means identifying and neutralizing our greenhouse gas emissions and coming up with concrete initiatives to achieve carbon neutrality." Additional projects the group has committed to include from January 2022, 100% of the fruits and vegetables, seafood, poultry and meat consumed in the group's hotels will come from Mauritian farmers and producers, or from regional partners in the Indian Ocean. The group is looking to recycle 75% of its waste by 2022, and aims to reduce food waste by committing to a pilot project carried out in collaboration with The PLEDGE on Food Waste group in Mauritius. Philippe Espitalier-Noël, CEO of the Rogers group which is the parent group of VLH Ltd adds: "Now for Tomorrow is not just about telling people that it is time to act now for the environment and for future generations, but it's about leading by example. I have worked on this initiative since my appointment as CEO in 2007 and, more recently, among the business community as chairman of the "Sustainable and Inclusive Growth" commission of Business Mauritius." To find out more about "Now for Tomorrow" please visit https://nowfortomorrow.mu/For reservations, please email: resa@heritageresorts.mu  and resa@veranda-resorts.comFor more information on the hotels please visit: www.heritageresorts.mu and https://www.veranda-resorts.com/ Ends About Veranda Leisure and Hospitality (VLH) VLH, the hotel division of the Rogers group, a diversified Mauritian company listed on the stock exchange, has two hotel brands, notably Veranda Resorts and Heritage Resorts which comprise seven mid-to-high-end hotels, a spa and cosmetics brand, Seven Colors spa; a championship golf course, the Heritage Golf Club; a beach club, the Heritage C Beach Club; a 19th century chateau. It also manages the operations of Heritage Villas, 45 luxury villas in Bel Ombre. The group employs 2,100 people.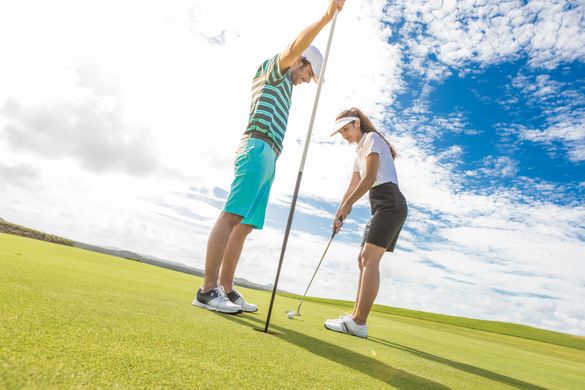 ---
L
ady golfers inspired by the excitement of last weekend's Women's Open and looking to spread their wings with their sport are invited to swing into action on the inviting greens of Aruba.
This sun-drenched Dutch Caribbean island is the perfect spot for combining golf with a relaxing holiday and with white sand beaches, top resorts, guaranteed weather, amazing cuisine and a vibrant nightlife, Aruba is a big hitter.
Even if one's play is not quite up to the standard of the weekend's Carnoustie winner Anna Nordqvist, Aruba's courses will still make you feel like a championship pro.
Aruba offers something for everyone, from luxury brand shopping in capital Oranjestad to a host of watersports – or just relaxing on the island's award-winning beaches.
Golf enthusiasts can indulge their passion at two courses on the island: Tierra Del Sol Resort, Spa and Country Club and The Links at the Divi Village Golf & Beach Resort – both offering something quite different.
The course at Tierra Del Sol is a spectacular one on the northern side of the island. It is a PGA-approved 18-hole course designed by the renowned Robert Trent Jones II, offering magnificent ocean views and a panorama of the rugged desert-like landscape of Aruba. Among its accolades is a 4.5-star rating in Golf Digest's 'places to play' category.
The nine-hole course at Divi Village is sited between the luxurious holiday villas of the complex. The eye-catching course is surrounded by the native flora and fauna of Aruba and gives visitors a real sense of the island's nature.
Away from the greens, lady golfers can enjoy other forms of relaxation, including a wide choice of spa and wellness treatments, yoga, pilates and fitness classes.
Aruba is a noted producer of aloe vera products, created from the key locally-grown ingredient and these feature in many of the treatments offered in the island's spas.
Many hotels offer a range of wellness-focused activities, such as dance therapy, fitness classes and yoga sessions. Hiking along the rugged northern coast of the island or kayaking and stand-up paddle-boarding over tranquil turquoise waters are also suggested for those seeking nature-inspired activities.
The Dutch Caribbean island of Aruba lies 15 miles north of the South American coastline, benefitting from year-round sunshine, an average temperature of 32 degrees and a cooling breeze. Located on the edge of the hurricane belt, with a nine mile stretch of award-winning pristine beach, turquoise seas, colonial Dutch architecture and a Latin vibe, Aruba is a delightful alternative Caribbean experience.