Two Ocean House n Rhode Island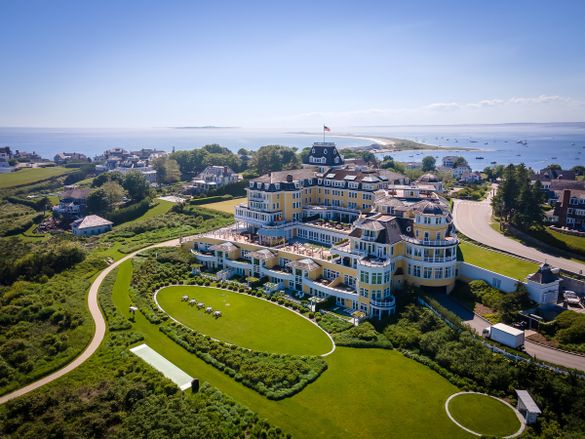 ---
WATCH HILL, R.I., Fe As part of its 2021 Star Awards, Forbes Travel Guide (FTG), the only global rating system for luxury hotels, restaurants and spas, announced Ocean House and Weekapaug Inn, two Relais & Chateaux properties in the Ocean House Management (OHM) Collection, received an impressive combined 20 stars.
Perched high on the bluffs of Watch Hill, Rhode Island, the iconic Ocean House received a triple five-star rating for excellence across its fine dining restaurant, COAST, luxurious OH! Spa, and overnight accommodations. The iconic New England seaside resort overlooks a pristine stretch of private beach with sweeping views of the Atlantic Ocean, and is strategically located between New York and Boston. The resort originally opened in 1868 and welcomed guests for more than 136 years before its historic rebuild and transformation. The new building replicates the original exterior design, while well-appointed guest rooms and residential accommodations, personal service, beachfront location, and world-class amenities pay homage to New England's golden age of hospitality, making it one of only 14 Forbes triple five-star resorts in the world.
COAST offers a seasonal menu that changes nightly and showcases the finest of each season's products. The restaurant's collaboration with and proximity to local farms results in the highest quality ingredients of not only the current season, but of that day. This creates a distinctive dining experience for guests by presenting the best possible menu every evening.
The Ocean House's OH! Spa remains the only Forbes five-star spa in Rhode Island, and among only 90 destination spas in the world to achieve the five-star rating. The 12,000-square-foot luxury hotel spa offers the best of the Ocean and the Harvest in a collection of seasonal treatments and products, offering a personalized spa experience that reflects nature's true elegance.
Located on the Rhode Island shoreline overlooking Quonochontaug Pond and the Atlantic Ocean just beyond, Weekapaug Inn in Westerly, Rhode Island offers quintessentially New England accommodations that effortlessly combine casual comfort and luxurious furnishings. The Inn features farm-to-table dining which utilizes the finest and freshest ingredients, locally sourced from Westerly and throughout Rhode Island. With inspired amenities and resort activities, Weekapaug Inn is designed to create extraordinary guest experiences.
The properties are only eight miles apart and fall under the direction of Ocean House Management (OHM), a curator of New England's most exceptional luxury hotels, restaurants and residences. Guests staying at either Ocean House Management Collection resort can enjoy the amenities and activities of both Weekapaug and Ocean House, making them ideal destinations for business retreats, family vacations and weekend escapes.
In related news, Ocean House Management (OHM) Collection was also the recipient of the 2021 Forbes Service Visionary Star Award, and was selected by FTG as one of five finalists for the Philanthropic Star award, for its thoughtful assistance to the community and associates throughout the pandemic, including the deployment of the OHM Food Truck, Off the Menu, as well as financial support to help provide food and resources to people who needed it most.
Forbes Travel Guide is the world-renowned authority in genuine Five-Star service. Alongside its yearly list of Five-Star, Four-Star and Recommended properties, FTG created these special awards to honor those who particularly shined during the pandemic. FTG received hundreds of entries and narrowed each category to five finalists. An executive panel then chose the winners.
"We are honored to receive 20 coveted Forbes stars for Ocean House and Weekapaug Inn," stated Daniel Hostettler, president and group managing director of Ocean House Management. "Providing an exceptional guest experience is paramount, and we take pride in our dedicated staff and stand-out experiences. This recognition is even more special this year with the addition of the new Service Visionary Star Award," said Hostettler.
About Ocean House Management
Ocean House Management, LLC is a curator of New England's most exceptional luxury hotels, restaurants and residences. An exclusive hospitality management company, OHM is defined by its philosophy to provide extraordinary experiences to discerning travelers. The collection's award-winning properties offer inspiring amenities and creative connections to culinary, nature, art, design and wellness. OHM was founded in 2010 with the redevelopment of Ocean House, a Forbes Triple Five-Star hotel — one of only 14 in the world. Featuring three Relais & Châteaux hotels, the portfolio includes: Ocean House (OceanHouseRI.com) and Watch Hill Inn (WatchHillInn.com) in Watch Hill, RI; Forbes Five-Star Weekapaug Inn (WeekapaugInn.com) in Westerly, RI; Inn at Hastings Park (InnatHastingsPark.com) in Lexington, Mass.; and Preserve Sporting Club & Residences in Richmond, RI (PreserveSportingClub.com). For more information, visit OHMCollection.com
About Forbes Travel Guide:
Forbes Travel Guide is the only global rating system for luxury hotels, restaurants and spas. Our anonymous professional inspectors evaluate based on up to 900 objective standards, with an emphasis on exceptional service, to help discerning travelers select the world's best luxury experiences. The only way to get a Five-Star, Four-Star or Recommended rating is by earning it through our independent inspection process. For more information about Forbes Travel Guide, visit ForbesTravelGuide.com.