Take a Forest Bath in the Beautiful Canary Islands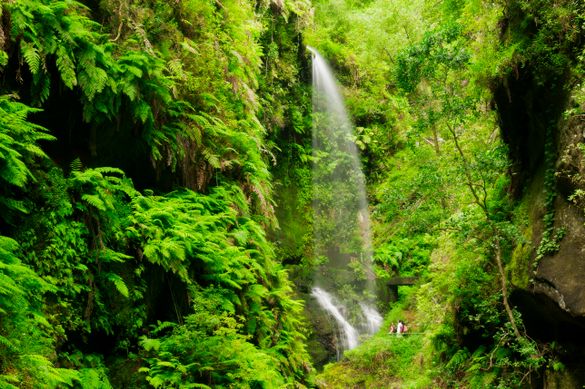 ---
Las Nieves Natural Park in La Palma is famed for its waterfall and forest of thousand-year-old trees, one of the largest of its kind in the world. Recently, Las Nieves Natural Park has also been named as one of the best places in Spain for forest baths, by Alex Gesse and Gorka Altuna.
Forest bathing – or shirin-yoku as it was originally called, meaning "taking in the forest atmosphere" – started in Japan in 1982 as an eco-antidote to tech-boom burnout, inspiring residents to reconnect with and protect their forests. Forest bathing is not just for the wilderness-lover, however. The practice can be as simple as walking in any natural environment and consciously connecting with what's around you.
Alex Gesse says: "a forest can be a lover or a friend. That is why we included the Las Nieves Natural Park in our recommended tours. A laurel forest is a lifelong friend with whom you can set down roots. These forests have survived since the age of the dinosaurs for a reason…The Las Nieves forest is really attractive. It is not very crowded and allows for people to enjoy the benefits of nature. There are trees which are over 50 metres tall. That's impressive! During the time of the pandemic we need this time with nature more than ever."
The Canary Islands is a destination with great treasures from the natural world. There are seven biosphere reserves amongst the islands of La Palma, La Gomera, el Hierro, Lanzarote, Fuerteventura, Gran Canaria and Tenerife. There are also four national parks and eleven natural parks. In total there are 146 protected areas.
Alex Gesse says that by visiting natural places "we can go out every day to talk with a different friend, to fall in love with a different person. Perhaps we can become a different person."
Health Benefits
"The eco-systems that surround us act on our physical and mental wellbeing. When we walk through a forest and empty our minds of reflections and worries, we can be creative. Then when we go back to our normal lives, we have a greater understanding of who we are and what we want… The people of the Canary Islands are very aware that to enjoy nature you have to take care of it. This is what forest baths are all about. It's not to do with hugging trees but valuing and protecting our environment," says Alex Gesse.
Forest bathing can improve wellbeing, act against stress, increase calm, induce positive emotions and improve concentration. Forest bathing can also act as an anti-inflammatory; and, if it is carried out for long periods of time, it can reduce the risk of cardiovascular disease, improve the functioning of the endocrine system and the immune system, reduce cortisol, decrease sugar levels and it can have a positive effect on the nervous system.
The Las Nieves National Park is not the only place in the Canary Islands you can try forest bathing. Visitors can enjoy this experience on the island of La Gomera in Garajonay National Park, which has been declared a World Heritage Site by UNESCO. In Tenerife, as well, there is the Anaga Rural Park, home to the Enchanted Forest which, according Condé Nast Traveler, is one of the top places in Spain to experience forest bathing.
Options for Healing Outside of the Forests
"The experience of forest baths can be taken to the sun, to the volcanoes or to any pure natural place – and the Canary Islands is full of plenty of those," says Alex Gesse.
Eco-therapy is about a connection with nature, so the practice can be enjoyed on natural spots such as the golden sands of the Corralejo Dunes, in Fuerteventura, or the volcanic landscape of Timanfaya National Park, in Lanzarote. On the eastern side of the Canary Islands travellers can tour green spaces such as el Castillo de Lara, known as El Pinar de Betancuria in Fuerteventura or in Lanzarote, in the municipality of Haría in a place known as el Bosequecillo.
"It's not about the route. It's about the experience," says Alex Gesse. "We can take three hours to do a journey of one kilometre. Once we are inside the forest we do exercises which are aimed at awakening our senses of hearing and smell. "Have you ever breathed the scent of the forest? What about really seeing the forest? During the bathing experience the eyes open and we see closer what is around us. We can admire the contrasting lights and reflections. You come out of the forest with a taste on your lips. The touch of the tree is very special. That is why people hug them. There are also suitable places for meditation…. We walk in silence to awaken our senses which have grown drowsy thanks to the relentless noise of the city." Says Alex Geese.
For more information please visit www.hellocanaryislands.com
ENDS