Swanky St Barts By the Cabin Cruise from Dream Yacht Charter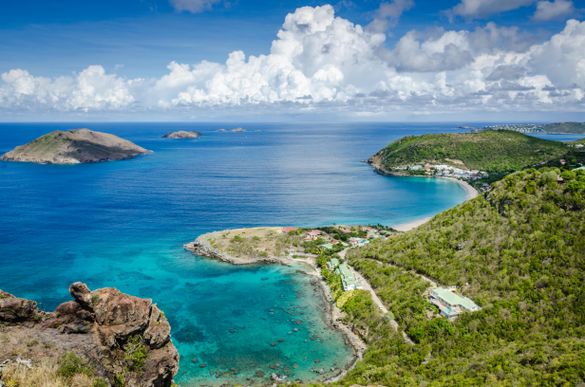 ---
Swanky St Barts is the star attraction on a new cruise on board a crewed catamaran introduced by Dream Yacht Charter for 2021.  The 7 night cruise follows a set itinerary, departing from St Martin calling at Antigua and Anguilla as well as taking holidaymakers off the beaten track visiting remote islands and nature reserves.
The St Barts Dream Premium offers the opportunity to explore the chic boutiques in St Barts or stay on board the catamaran and spot the mega yachts that make the island the playground of billionaires.
In Antigua there is the chance to explore the historic Nelson's Dockyard area or some of the island's 365 beaches while Anguilla's powder soft sandy beaches are perfect for relaxing in the sun.  There are also visits to Tintamarre, an uninhabited island within the St Martin Nature Reserve with the opportunity to swim with turtles; and the Prickly Pear Cays, two uninhabited islands off the coast of Anguilla that offer excellent swimming and snorkelling.
By the cabin charters require no sailing experience and are ideal for those who cannot sail or sailors who want to kick back and relax while surrounded by beautiful scenery.  A handpicked, experienced crew takes care of the sailing and preparing meals.
The cruise is on board catamarans measuring up to 18 metres in length, accommodating just 12 passengers, so ensuring everyone has plenty of space for relaxing, dining or simply watching the scenery.  Snorkelling equipment and kayaks are also available for exploring the waters and coral reefs.
Prices start from £1368 per person, based on two adults sharing a cabin, on a full board basis and including drinks with meals.  International flights and transfers are not included.  The first departure is on 13 March 2021.
Dream Yacht Charter founder, Loic Bonnet, said: "We continue to invest in the Caribbean, adding another by the cabin charter destination to our portfolio. There is no better way to experience the wonder of the Caribbean islands than on a yacht and our by the cabin charters are a hassle-free alternative to a resort stay.  All guests need to do is book flights, reserve a cabin and pack their bags. We'll take care of everything else."
Dream Yacht Charter now offers 9 by the cabin Caribbean itineraries from 7 destinations including the British Virgin Islands, Cuba, Grenada, Guadeloupe, Martinique and Panama.
For more information visit www.dreamyachtcharter.co.uk or call 02380 455 527.
Ends
About Dream Yacht Charter – The World's Leading Ocean Tourism Company
Part of the Dream Yacht Group, we were founded by Loïc Bonnet in 2000. We set out right from the start to revolutionize the industry by making sailing accessible to all. We began in the Seychelles with just six boats, and now have a vast number in 60+ exciting destinations worldwide, including the Caribbean, Bahamas, Indian Ocean, Pacific Ocean, Asia, Americas and Europe.
Worldwide Sailing Holidays
We've pioneered ways to help non-sailors discover the freedom of being on the water. We're also known for our innovation in bringing new sailing destinations to market and our sheer range of choice. We offer a range of charters, including bareboat, skippered, by the cabin, crewed, sabbaticals, power catamarans and corporate events.
We pioneered by the cabin charters with guaranteed departures and we now offer 40+ routes across 19 destinations. We strive for constant innovation, introducing new sailing grounds such as New Caledonia and Cuba. We've also introduced six ownership programs for potential yacht owners who want flexible options that suit their objectives. We offer the lowest entry price on the market.
In 2018, NextStage made a longterm investment in Dream Yacht Charter alongside cruise catamarans manufacturer Fountaine Pajot. This investment provides the company with a secure platform for sustainable growth.
Committed to Changing the Industry
Sustainable Sailing
Sailing responsibly is of great importance to us. For the last 10 years, our Australian base has held an ECO Certification from Eco Tourism Australia in recognition of our commitment to sustainable, environmental practices. We also take part in beach cleans around the world and are working to reduce our impact on the planet where we can.
#MoreWomenAtSea
Since 2019, we've been encouraging more women to get out on the water and learn to sail. We've been sharing inspirational stories through our #MoreWomenAtSea campaign. Our interviews include record-holder Lisa Blair, who holds the fastest time for circumventing Australia in a monohull, and three times Volvo Ocean Race competitor, Liz Wardley.