Red Savannah Acquires Italian Villa Specialist Homebase Abroad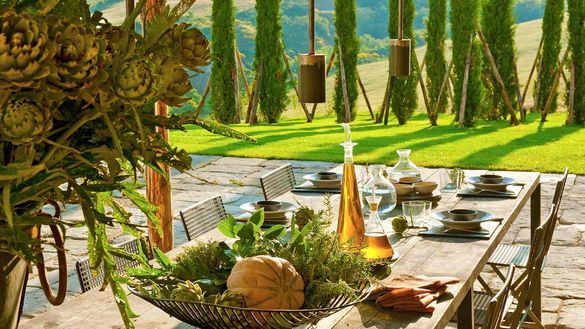 ---
Red Savannah, the award-winning travel company offering luxury private villa experiences and tailor-made journeys around the world, has acquired Homebase Abroad, a U.S. based company specialising in luxury villa rentals in Italy. The deal effectively expands Red Savannah's extensive U.S. client network, as well as enhancing its portfolio of Italian villa properties. Homebase Abroad is Red Savannah's first acquisition.
"We have looked at several opportunities over recent years, but Homebase Abroad was the first business we felt was properly aligned from both a philosophical and demographic standpoint," said George Morgan-Grenville, Red Savannah's CEO and Founder. "We are very excited about this acquisition which offers stunning new villa options in Italy to our own clients, and a vastly expanded portfolio of luxury villas, gulet holidays and tailor-made journeys to Homebase Abroad's clients."
The experienced team at Homebase Abroad, headquartered in Boston, MA, will continue to oversee all villa vacations booked for 2021. On January 1, 2022, all Homebase Abroad bookings will transition to Red Savannah with Homebase's Founder and Director, Mara Solomon, remaining closely involved as a Red Savannah Ambassador. Solomon, who founded the company in 1995, has consistently been named in the prestigious Condé Nast Traveler Villa Specialist list over the past decade, and the company has landed on Travel +Leisure's annual list of "Best Villa Rental Agencies" six times and Town & Country's "Best Villa Rental Agencies" List.
"We have had a thrilling 26 years of being a leader in setting standards for villa travel in Italy focused on ensuring our guests have the best vacation of their lives. We are delighted Red Savannah has honoured our success by acquiring our company", said Mara Solomon, Founder and Director of Homebase Abroad. "Our clients will benefit from Red Savannah's expertise not only in Italy, but also in the most desirable villa destinations worldwide."
Red Savannah has a vast array of new offerings including luxury villas in key areas throughout Europe such as Villa Malvan in the pretty Côte d'Azur town of Vence with Matisse's celebrated chapel, the Chapelle du Rosaire, Bastide Sur La Sorgue, walking distance to the Provençal village of Isle Sur La Sorgue, and La Regina a 14th-century convent, now beautifully restored house set amidst the rolling hills of Chianti, Tuscany.
Red Savannah also has new villa experiences in the Mediterranean in popular island destinations such as Ibiza, where a trio of super-chic villas, Villa Josep, Can Bonita and Villa Xi can be rented individually, or together to accommodate up to 44 guests enjoying a much-anticipated reunion or celebratory occasion. The collection has also expanded in the sought-after northeast corner of Corfu, Greece, where the Durrell family famously made their home. Villa Apraos in Corfu sits close to one of the loveliest beaches on the island with waterfront tavernas looking out over the Ionian Sea. In addition, Red Savannah also increased their collection of luxury gulets and yachts in the Mediterranean, with summer 2021 additions in Croatia and Montenegro where visitors can spend time kayaking, paddle boarding, snorkelling, relaxing and exploring various destinations.
Additional terms of the acquisition were not disclosed.
To learn more about Red Savannah, please visit: redsavannah.com
About Red Savannah
Awarded the prestigious Queen's Award for Enterprise in 2020, Red Savannah is a luxury travel company that creates ruggedly exciting African safaris, beautifully designed private journeys across the Americas, Indian sub-continent, Southeast Asia & Australia, idyllic restorative holidays on palm-fringed Indian Ocean islands and the most stunning portfolio of hand-picked journeys and luxury villas in Europe & the Caribbean – all delivered with charm, passion, integrity and style. Founded in 2011, the team of extraordinarily knowledgeable travel designers – most of whom have 15-20 years' experience and whose address books range from Kings to Concierges – offer only the most superlative life-changing travel. For more information, please visit redsavannah.com  and follow facebook.com/RedsavannahHQ, twitter.com/redsavannahhq and instagram.com/redsavannahhq.
AboutHomebase Abroad
Homebase Abroad is a company of Villa Travel Specialists working exclusively in Italy.  Founded in the pre-internet age of 1995, the company chose a distinctive model to ensure guests an exceptional private experience of Italian culture and hospitality while ensuring private homeowners of the reliable guests.  Homebase Abroad has evolved to become a leader in the industry offering highly personalised travel service, a deep knowledge of Italy cultivated by first-hand experience and an extensive network of personal relationships with villa owners, guides, drivers and chefs. For more information, please visit www.HomebaseAbroad.com.