PADI Face Coverings on Public Transport and Help Save the Ocean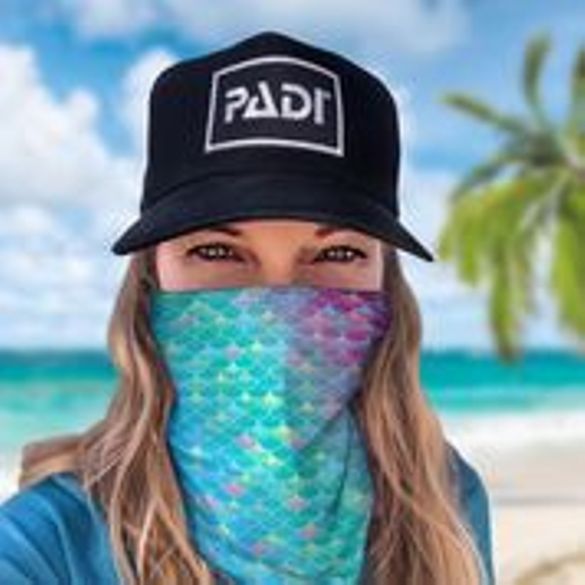 ---
—Scuba diving enables people around the globe to experience the wonder of the underwater world that covers over 70 percent of the earth's surface. In celebration of World Oceans Day (June 8), PADI® (Professional Association of Diving Instructors®) provides opportunities to help people everywhere connect with the ocean and support efforts to preserve and restore it, in whatever capacity possible during these times.
With a face covering becoming mandatory to wear on UK public transport from Monday 15th June, PADI along with their rash guard partner, Rash'R, are offering face coverings and face masks manufactured from plastic bottles recycled from the ocean. These coverings contribute to the removal of plastic pollution from the ocean while helping to meet consumer demand for face masks during the pandemic. Available through the PADI Gear collection of earth-friendly apparel and accessories, the collection includes balaclava-style face guards and dual layered cloth face masks.
The versatile face guards are breathable and easy and comfortable to wear. They feature two layers of UPF + 50 polyester to cover your nose and mouth and similar to a balaclava, can be worn in a variety of ways and easily pulled up over the face when needed. The cloth face masks feature stretchy elastic ear bands to fit faces tightly.
Both coverings, made from quick drying, moisture wicking recycled polyester are reusable, washable at high temperature and feature a filter pocket for PM 2.5 carbon filters.
The multi-use face guards are packaged with two carbon-activated replacement filters and the face masks come with five. Each last for around eight hours and additional filters can be purchased at padigear.net.
Using an alternative to medical grade masks means increasing the chances the NHS, care and other essential workers will have access to the important safety equipment they need to carry out their work.
To date, based on the number of face masks purchased, PADI and its partners have removed and reused more than 812 kg's of ocean plastic.
PADI Gear face guards are available in a range of seven attractive designs and PADI Gear face masks are available in adult and child sizes, featuring a variety of different patterns depicting marine life. The face coverings can be purchased through PADIGear.net and retail from just £17.20.
To date, PADI Gear products made from recycled ocean plastics have collectively resulted in the removal and reuse of more than 54,779 pounds of ocean plastic. See link to images here: https://www.dropbox.com/sh/h4qqzx5fcglzdzm/AABSd8_muxD64GMPflv3e6x_a?dl=0
For further information please contact:
About PADI
PADI® (Professional Association of Diving Instructors®) is the world's largest diving organization with a global network of more than 6,750 dive centers and resorts and 137,000 professional members worldwide. Issuing more than 1 million certifications each year, PADI enables people around the world to seek adventure and save the ocean through underwater education, life-changing experiences and travel. For over 50 years, PADI is undeniably The Way the World Learns to Dive®, maintaining its high standards for dive training, safety and customer service, monitored for worldwide consistency and quality. With a longstanding commitment to environmental conservation, PADI is leading the way for millions of people to actively explore, steward and protect the ocean through its course offerings and partnerships with like-minded, mission-driven organizations. PADI embodies a global commitment to ocean health with its mission to create a billion torchbearers to explore and protect the ocean.