KANGAROO ISLAND YOU'LL LOVE IT' Self-Drive Packages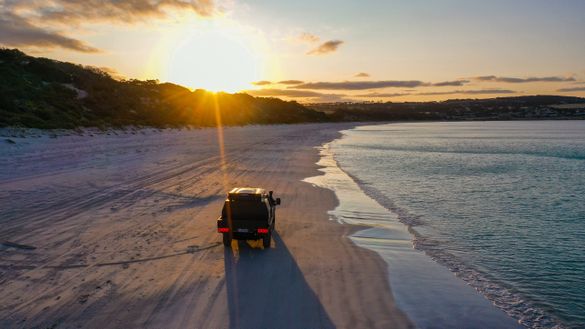 After surviving devastating bushfires and COVID-19 travel restrictions, Kangaroo Island is back in business and ferry operator, SeaLink South Australia has put together a range of 'KANGAROO ISLAND YOU'LL LOVE IT' self-drive packages!  So, forget your 'backyard' staycations and escape to a blissful getaway in nature's paradise.
SeaLink South Australia's 'KANGAROO ISLAND YOU'LL LOVE IT' campaign includes a range of amazing self-drive packages from weekend getaways, bonus accommodation offers and discount vouchers to use at a variety of attractions, cafes, adventure activities and cellar doors around Kangaroo Island.
'KI Weekend Getaway' packages include one-night accommodation, return ferry for passengers and their car, discount vouchers and some 'KI Weekend Getaway' bonuses including free breakfast. All packages can be extended to two nights so every ounce of the island can be explored and enjoyed.
'KI Weekend Getaway' Packages start from only $272 per person at Kangaroo Island Seafront Hotel in a Sorrento's Room and range in validity from 1 June to 31 July or 31 August 2020.
Bonus accommodation offers start from $327 per person and include return ferry travel for passengers and their car and three nights' accommodation staying at either Emu Bay Holiday Homes in a Rustic Cabin or Kangaroo Island Cabins, Kingscote in a one-bedroom cabin. Price valid from 1 June to 31 August 2020.
For those itching for their Caravan or Camper Trailer holiday, SeaLink South Australia is also offering free return ferry transfers for two passengers when booking a car plus a caravan or camper trailer on the SeaLink ferry. Simply quote CARAVAN20 when booking to receive this fantastic deal. This offer is available for travel to 15 May 2020.
Now is the ideal time to visit Kangaroo Island, not only have regional travel restrictions been lifted in South Australia but the parts of Kangaroo Island that were affected by the bushfires are now regenerating and Mother Nature is really putting on a show!
A sanctuary for wildlife, there are wildlife encounters at every corner. See Sea Lions frolicking on the beach at Seal Bay Conservation Park, get up close and personal with kangaroos, wallabies, koalas and other nocturnal wildlife at Kangaroo Island Wildlife Park and experience the fantastic Birds of Prey presentation at Raptor Domain.
Visit the many picturesque beaches and soak up the spectacular coastal scenery and stunning island landscapes. Enjoy sandboarding at Little Sahara sand dunes, go snorkelling with dolphins and discover a hidden, sandy beach via a secret path at beautiful Stokes Bay.
Wine, beer and spirit lovers can explore a variety of idyllic cellar doors, visit Australia's first boutique gin distillery, KI Spirits and call into the KI Brewery for a beer!
For further information visit: www.sealink.com.au
– ENDS-
For further information and bookings please contact: T: 13 13 01 from within Australia,  email: bookings@sealink.com.au or visit: www.sealink.com.au
For media enquiries contact: Brooke Tolar, SeaLink South Australia, M: 0411 553 246, email: brooke.tolar@sealink.com.au  or Julie-Anne Briscoe, SeaLink South Australia, M: 0408 695 413, email: julie.anne@sealink.com.au
About SeaLink Travel Group
SeaLink Travel Group is a publicly listed multi-modal transport and tourism operator, delivering world-class customer services and brilliant Australian holiday experiences.
Carrying more than 360 million passengers a year in different locations around the world, our Group has over 8,500 employees operating nearly 3,400 buses and 78 ferries in New South Wales, Victoria, Queensland, South Australia, Tasmania, the Northern Territory, Western Australia, London and Singapore.
SeaLink was founded in 1989 in Adelaide providing transport and ferry services between the mainland and Kangaroo Island. Today, we are a leading Australian marine, tourism and public transport provider with established international operations in London and Singapore.
SeaLink's tourism operations extend across New South Wales, Queensland, the Northern Territory, Western Australia, South Australia and Tasmania, including:
– Cruises, ferry and charter services on Sydney Harbour, Swan River (Perth) and on the Murray River
– Passenger, vehicle and freight ferry services from Kangaroo Island to the South Australian mainland, North Stradbroke Island and Southern Moreton Bay Islands to south-east Queensland and from Bruny Island to the Tasmanian mainland
– Resort accommodation, restaurants, touring and ferry services on Fraser Island, Queensland
– Day tours, extended touring and charter operations on Kangaroo Island and on the South Australia mainland
– Passenger ferry services in Townsville, Darwin and Perth
– Lunch and dinner cruises on the Swan River and on Sydney Harbour
– Ferry and barging services in south-east Queensland and Gladstone
– Exclusive 4WD foreign language adventure-based tours