Healing Through Horses – Caribbean Resort Introduces Equine Therapy for 2021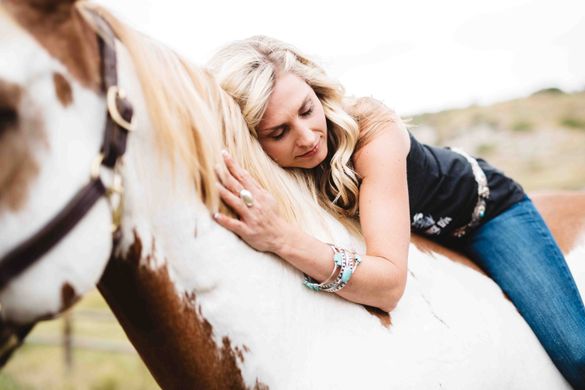 ---
The luxury resort of Casa De Campo Resort and Villas in the Dominican Republic has announced it will be offering an equine therapy retreat in April 2021. The retreat, originally planned for April 2020 but postponed due to the pandemic, is designed to bring people and horses together along with an Equine Gestalt Coach to promote wellness, self-discovery and healing.
Equine therapy is becoming increasingly popular around the world with Hollywood star Ben Affleck and singer Selina Gomez among those who have sought assistance as part of a wider therapy programme.
Devon Combs, a globally recognised Equine Gestalt Coach, has partnered with the resort to offer the retreat for up to 12 women, from 5-9 April 2021.
She commented, "2020 has been an incredibly challenging year for everybody, whatever their situation. I specialise in helping people get clear on where they're headed and find the courage to move forward in their lives, while bonding with a supportive group of like-minded women. Never has this been more relevant."
Devon continues "Casa de Campo's beautiful equestrian centre is the perfect setting – the magic of this 7,000-acre resort and the healing power of horses offers the perfect partnership and will undoubtedly help women seeking positive change."
While on-site, participants will be able to enjoy all the facilities at the 7,000 acre resort – they can relax on the sandy beach, go paddle-boarding, take a boat trip to a deserted island, kayak down the river, have a pottery lesson or relax in the spa. Also on offer are a 370-slip Marina & Yacht Club, the top rated golf course in the Caribbean – 'Teeth Of The Dog' and a tennis centre with 13 courts.
Dripping in Hollywood legacy and Hamptons luxury, Casa de Campo and its mansion villa homes have attracted A-list celebrities, politicians and royals for decades, recently including Jay-Z and Beyonce, the Kardashians, Taron Egerton, Richard Branson, Michael Jordan, Drake, Alycia Keys, Bill Clinton and many more.
The five-star resort features 247 impressive rooms and suites in addition to numerous villas with private pools. Guests have a choice of 8 restaurants to choose from, six of which are included for those on all-inclusive basis.  Guests travelling by private jet can fly into La Romana airport – adjacent to the resort, while scheduled services operate direct from the UK into Punta Cana.
Participants will benefit from three days of equine encounters, unlimited horseback rides and English or Western style riding lesson. No previous experience of horses is necessary and all riders are welcome, including beginners.
A seven night holiday through British Airways Holidays (www.ba.com/holidays) departing on 4 April 2021 from London Gatwick and including  accommodation on all-inclusive basis in a Superior Casita room (based on 2 sharing) currently costs from £2,412 per person.
The four-day retreat costs an additional $1,760 per person (approx £1,326) and is bookable by calling Casa de Campo's UK sale office on tel: 01245 459 900
For more information on Casa de Campo visit www.casadecampo.com.do
More information about the retreat may be found here:
https://www.casadecampo.com.do/experiences/sports/equestrian/unbridled-equine-retreat/
More information about Devon Combs may be found here: https://unbridledretreats.com/