Adventure Club at MarBella Elix. Greece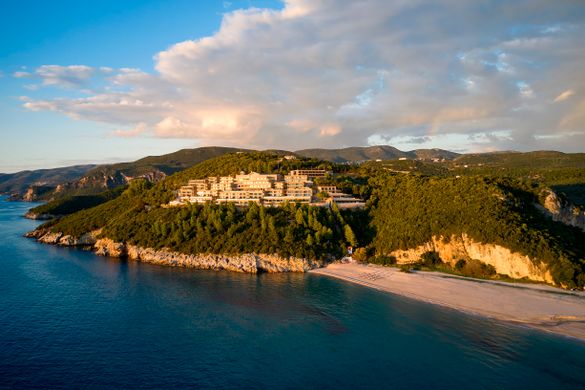 ---
The MarBella Collection is delighted to introduce the Adventure Club at MarBella Elix, a kids and teens club launching at the new MarBella Elix hotel. Opening this spring near Parga, a previously undiscovered region of mainland Greece, MarBella Elix is the latest property to join the MarBella Collection portfolio. The new club will include a kids adventure club (The Argonauts) and a teens adventure club (The Spartans), both designed to transform the way young guests explore the natural beauty of Greece and to provide fun and safe holiday experiences. Carefully tailored for all ages, this new offering has been designed to provide active, unforgettable programme of activities this summer – all centred around the magic of Greek mythology.
Vassilis Dracopoulos, Owner of the MarBella Collection, comments: "We are delighted to be launching the Adventure Club at MarBella Elix. Our brand-new hotel lends itself perfectly to adventure and expeditions – which is something we are all in need of now more than ever. We value new discoveries and new relationships, all within a safe and secure environment, and I am excited for our guests to have access to these special and unique holiday experiences that truly highlight the magic of Greece."
Adventure Club at MarBella Elix
The MarBella Elix Adventure Club will be themed around the heroic tales of Greek gods, goddesses, and legends. The programme will provide adventure through mythical creatures and deities along with an abundance of outdoor activities including orienteering, treasure hunts, bushcraft, and sea kayaking – never before offered by MarBella Collection. With two separate clubs on offer (The Argonauts aged 8-11 years and The Spartans aged 12-15 years) children and teenagers will have the chance to explore different places, learn core skills, make new friends, and develop confidence – all in an exciting atmosphere of adventure.
Adventure Club at MarBella Elix – The Programme
The Adventure Club at MarBella Elix will consist of a full six-day programme (tailored for each age group). This has been designed to maximise the property's unique location in the heart of nature and surrounded by hidden bays and stunning mountains. Children and teens will have will embark on the Poseidon Adventure, where they can kayak through caves and search for treasure troves to recover Poseidon's trident that has been wickedly kidnapped by the mischievous water nymphs. The Zeus Mystery will send soldiers marching to the nearby old Citadel, Elina, to search for treasure that was left behind 2,500 years ago when the previous inhabitants were forced to flee Zeus' wrath. Inspired by Goddess of Hunt and the Wilderness, the Artemis Academy will see children mountain biking in the beautiful nearby woodland where explorers will be taught various outdoor skills. Athena Day will invite kids to get creative with arts and crafts in the hotel's own woodland site – led by the Goddess of Warfare, the young explorers will enjoy pottery, bread making, wood carving and games of combat archery. Hades' Quest will take adventurers to nearby the beautiful river Acheron to build and race model boats – and try to find lost coins to return to the nearby Temple of Hades. The week concludes with the Hestia Experience, inspired by The Goddess of the Hearth, children will enjoy a fishing lesson followed lunch in the Woodland Adventure site.
MarBella Elix
Opening in Spring 2021, MarBella Elix is an inspirational new 5* property in a previously undiscovered area of Greece. As the third hotel to join the MarBella Collection portfolio and the brand's first property outside of the island of Corfu, MarBella Elix will be perched above the beautiful Karavostasi Beach in the Parga region, looking west towards Corfu and Paxos. An area of astounding natural beauty, the luxurious MarBella Elix sits in unspoilt surroundings where the mountains meet the Ionian Sea.
Chris Brickel – Founder of Adventure Club at MarBella Elix
The Adventure Club by MarBella Elix will be led by Chris Brickel who has personally developed the club's programmes and will be working on the ground with Greek adventure company, Explore the Outside. Brickel, previous founder of London's prestigious Exploration Society and Head of Outdoor Pursuits at the Perse School in Cambridge, is well versed in providing safe and active holiday adventures having run hundreds of children's expeditions and events – now run through his own company, Adventureful.
The Adventure Club at MarBella Elix is available for those aged 8 to 11 years old and 12 to 15 years old, throughout May to September. The full 6-day programme costs from £72 / €79 per person per day.
For more information visit: www.marbella.gr/marbella-elix/parga-family-holidays/adventure-club/ or https://adventureful.co.uk/marbella-adventure-club.html. Family rooms at MarBella Elix (www.marbella.gr/marbella-elix/; +30 26610 71123) start from £180/€205 per night per room on a half board basis.
 The MarBella Collection
The MarBella Collection currently boasts two unique properties in their portfolio, the iconic family 5* resort, MarBella Corfu Hotel located and in Agios Ioannis Peristeron and its adjacent sister, adult-only suite hotel MarBella Nido Suite Hotel & Villas which opened in May 2018 and is a proud member of Small Luxury Hotels of the World. In Spring 2021, the highly anticipated MarBella Elix will be added to the collection, a property designed for travellers seeking true luxury experiences.
The MarBella Collection is a constantly evolving group of hotels characterised by its dynamic professional team and its passion for the promotion of high-end Greek hospitality.  MarBella Collection offers all guests tailored, unique experiences that satisfy their every desire at every stage of life.
www.marbella.gr/