21 Things to Experience on Florida's Space Coast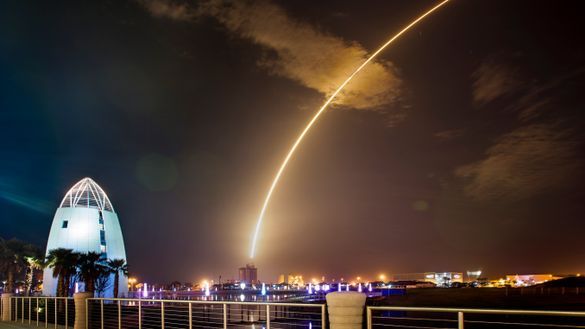 0
---
Everyone is always excited for the beginning of a new year and fresh start, and never has that been truer than now. 2021 is set to be an exciting year with some amazing things to look forward to alongside some classic favorites that maybe you haven't tried before.
New and Exciting
Crew-2 and Crew-3 – SpaceX Crew Dragon is set to have two launches in 2021. Crew-2 is currently set for March 30 and Crew-3 in the Fall. We hope weather will work out to have the splashdowns off our coast this time.
Boeing Starliner – A United Launch Alliance (ULA) Atlas V rocket will launch Boeing's CST-100 Starliner on a second unpiloted test flight to the International Space Station. This launch is currently set for March 29. ULA and Boeing are shooting for June for their Crew Test Flight.
Brevard Zoo's New Train – Brevard Zoo upgraded their Cape to Cairo Express recently with a new electric train and are cycling various animals through different areas in Expedition Africa to acclimate them to it. They also added an Eastern Bongo and three Ankeole-Watusi to the area.
Planet Play at Kennedy Space CenterVisitor Complex – Opening January 1, 2021, this new play area for kids age 2 – 12 will educate kids about technologies used in space exploration and the planets, in a fun, playful environment
Carnival Mardi Gras – The newest ship in Carnival's line will call Port Canaveral home beginning in 2021. This ship even has a first-of-its-kind roller coaster on it!
MSC Cruises – The cruise liner will homeport two of their ships, the Seaside and Divina, at Port Canaveral starting in March 2021.
Marella Cruises – The UK brand will come to Port Canaveral for their first homeported ship in the US slated for May 2021.
Enjoy Nature
Sight See and Play
Smash Golf and Footgolf at Duran – Looking for a unique way to get active? Why not try Smash Golf, a tennis-golf hybrid and Footgolf, a soccer-golf hybrid? At Duran Golf Club, you can try both!
Cape Canaveral Lighthouse – In the mid 1800's, dangerous shoals off the coast at Cape Canaveral were a constant threat to mariners, so Cape Canaveral Lighthouse was built. Come take a tour and learn about early Space Coast history and how this lighthouse was the first domino towards choosing Brevard as the home of NASA.
Airshows – In 2021, the rockets will share the skies with two airshows! In April, the US Air Force Thunderbirds will kick off their 2021 season at the Cocoa Beach Air Show alongside the GEICO Skytypers, Lucas Oil stunt pilot Michael Wiskus, and more. Then in May, the US Navy Blue Angels will headline The Great Florida Air Show after a 6-year absence. The pilots will fly new F/A-18E Super Hornets to mark the team's 75th anniversary season.
Biplane and Helicopter Tours – Soar over the beaches and Kennedy Space Center with biplane and helicopter tours from Florida Air Tours, Beachside Helicopters, and Cocoa Beach Helicopters.
Mural Walks – The Historic Downtowns across the county are dressed up with beautiful murals, many from local artists. Check them out in Titusville, Cocoa Beach, Eau Gallie Arts District, and Downtown Melbourne.
Historic Homes of Brevard – Did you know that the Space Coast has multiple beautiful Victorian homes? Come see what Brevard County was like in the late 1800's and early 1900's with tours of these homes throughout the year. In the winter, they're even decked out in vintage and historically accurate Christmas décor.
Museums of Brevard and Space View Park – The Museums of Brevard show off early Brevard history, historic military planes, space program artifacts, and so much more. Check out the Space Walk of Fame and Space View Park next time there's a launch!
Jet ski and boat rentals – Take to the water with these fun rentals! Fishing fans can also consider chartering tours along the Indian River Lagoon.